Several neighborhoods report receiving KKK flyers in Kentucky
Published: Jun. 13, 2023 at 10:47 AM CDT
MT. STERLING, Ky. (WKYT/Gray News) - Officials in Kentucky are investigating after people reported finding "concerning" flyers filled with Ku Klux Klan propaganda in their front yards.
"I found it out by my house in the road," said Jim Carroll, a resident of the Holly Hills neighborhood in Mt. Sterling.
At least a dozen other people in the neighborhood spoke with WKYT but did not want to go on camera. Many of them said they were concerned about the flyers and some said it makes them feel unsafe.
Carroll said he didn't even read the flyer.
"I feel safe," he said. "It doesn't bother me any."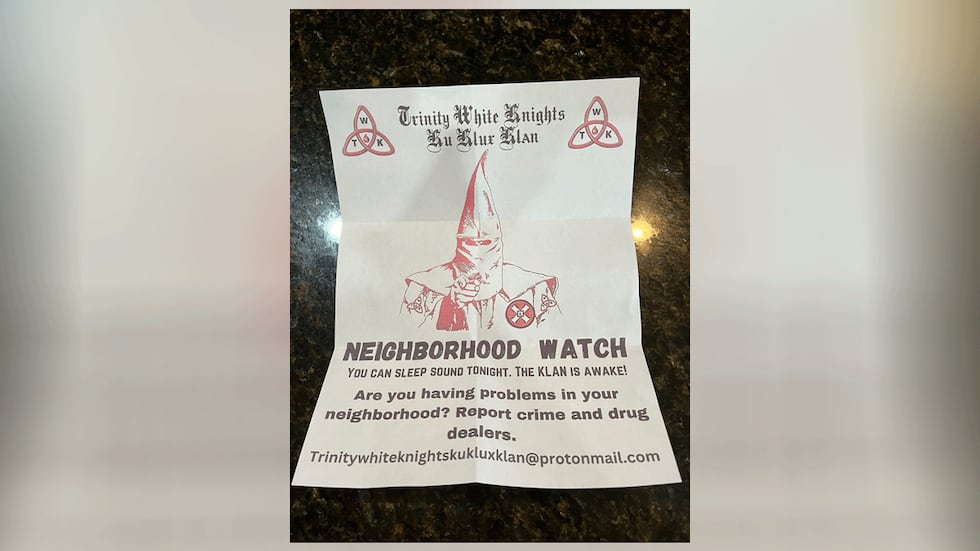 However, Whit Whitaker, the president of the Lexington-Fayette Chapter of the NAACP, said people should be concerned.
"The seed's been planted. You don't know who else has saw that, and just because this was an indirect action, it could lead to direct action violence or violent activities," Whitaker said.
Whitaker said people should report any incident like this to authorities but should also take other steps if they wish to enact change.
"You see something, say something, do something - mobilization," said Whitaker. "You have a neighborhood association. If you are truly offended, then you mobilize your neighborhood association and say, 'This is unacceptable; we need to stay vigilant.'"
Mt. Sterling police said they are investigating who put these flyers in this neighborhood.
Police said they have received reports of similar flyers being found in Paris, Kentucky, and they are looking into it.
Copyright 2023 WKYT via Gray Media Group, Inc. All rights reserved.